My Top 10 List
Run the Lakes.
Walk the Nicollet Mall.
Bike along the River Road.
Sing a song in the piano bar at Nye's.
Cruise on Lake Minnetonka.
Drink at a neighborhood bar in Nordeast Minneapolis.
Play Bocce Ball in the basement of the Halftime Rec.
Attend a St. Paul Saints game.
Eat mini-donuts at the State Fair.
Drive out of the city in less than 20 minutes.
Do you have a suggestion to add to this list? I promise I'll add to the list with the best suggestions!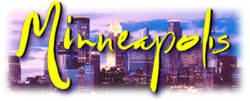 ---